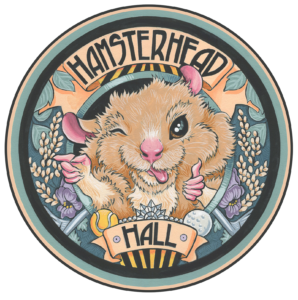 Hamsterhead Hall Playing Cards
Thank you everyone who got to preview this project at Illuxcon! Your response to the art and the idea was encouraging and has recharged my enthusiasm for the project. I have only a few more card designs to draw before I start in on the painting!
Some news on the project: The original vendor is going to be unable to do the manufacturing for me – for a very good reason – so I have had to find a new vendor. I will be working with Geekify to create the boxes and I'm even more excited by what they can do for me! I have a bigger choice of woods and finishes and I can do more with the engraving, but they will be able to do the boxes pretty much as you had seen them at Illuxcon. The original vendor has wonderful products of her own (I own a number of her boxes) and I'm still hoping to work with her on another project in the future!
I will be setting up a Patreon page in the next few weeks and will be offering sneak peeks of the art as I complete it. I'll be posting updates on this as I get closer to launching it. You can check for updates here or on my blog. You can also get some peeks at the practice drawings and public releases on my instagram @JuliaLynnPowell
Thank you again to all of you who let me tug on your ear to share this project with you! Your laughter and praise are so appreciated and have made me all the more committed to bringing this project to life!
SaveSave
SaveSave